Is this is what the End Looks Like?
Last month my good friend Sarah had a play on at Northern Stage's Stage 3. It is a play about mental illness, domestic abuse and a toxic family system. The play began as a nightmare vision of how Sarah's own life could end up; she fears the cyclical nature of her bipolar illness as it means a further mental breakdown could always be around the corner.
Below is an extract from the play script and some photos of the performance (Photos by Colin Cuthbert, in the Photos Johnny Lavelle).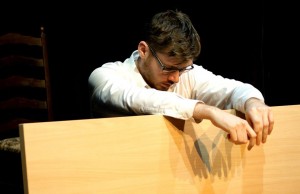 Countdown One (following He's logic, this play is divided into four, four-minute countdowns instead of scenes)
The stage is fairly bare, except for a table laid for four people. The stage is the family's kitchen, but they mime the scenery and props that aren't the table.
HE is sat on the floor with his knees up. HE is rocking backwards and forwards.
HE: (mutters) It's over. It's over. It's over. It's over.
HE: (shouts) I'm done!
HE stands and then freezes. He stays standing for a prolonged amount of time.
HE: No. Fuck it. I'm not done yet.
HE runs over to the table and overturns it. Plates and cutlery fall to the floor with a crash.
HE shouts what he is doing as he collects things, starting with the table.
HE: Rudimentary shelter!
HE reaches into the fridge, pulls out some neatly folded clothes and puts them on. The top has long sleeves.
HE: Clothing with maximum coverage!
HE goes through cupboards, getting increasingly frustrated as he can't find what he needs.
HE: Tin foil! Tin foil. Tin foil? Where are you?
HE finally finds the tin foil, it was hidden behind something. HE unrolls it, but there is hardly any left.
HE: Not enough! Not enough! Not enough tin foil!
HE tries to cover the table-shelter with the tin foil he has, but quickly fails.
He: Shit. Fuck. Shit.
SFX a distorted siren noise starts.
He: Shit. Shit. Shit. Shit.
HE finally decides that fixing the foil to the shelter won't work.
HE pauses.
HE begins making small awkward movements in complete panic.
HE goes about wrapping the foil around his head.
SFX- the siren gets louder.
HE ducks down under the table.
SFX- the siren gets louder.
HE shouts the Lord 's Prayer over the sound of the siren.
Both HE and the siren get louder together.
Eventually he stops shouting, and just the sound of the siren remains.
The siren suddenly stops and there is complete silence for a while.
The silence is broken by someone turning the key in the door's lock.
WIFE, SON and DAUGHTER walk in. They stop dead still on seeing the scene in front of them.
WIFE rolls her eyes and shakes her head.
DAUGHTER: Dad, seriously? Again?
WIFE: Half an hour! That's all I ask for.
WIFE storms through the room to head upstairs (off-stage).
HE: Sorry.
SON: That's ok.
HE sticks his head out from behind the table.
SON: What's for tea?
HE: Fish fingers.
DAUGHTER: They're burnt. I can smell it.
Blackout.