ABOUT AZRA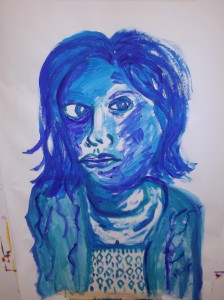 Azra Page has been the name for my insanity since I was eleven years old. She emerges whenever she wants and steals my brain for her own indecipherable uses. Sometimes she is a raw force of creativity; sometimes she is a numbness that starts in the palm of my hands and spreads until it is choking me from the inside out and all I want to do is puke and puke and puke it out.
Azra made up her own name. She thinks the alphabet is amusing (she never allowed me to learn its proper order) so one day she named herself after it (A-Z). She uses words only to conquer them, and to play with them like a cat with a mouse.
Azra Page has two books out and she is writing forty more. Dull Eyes; Scarred Faces is a raw work written over the two year period she was in a psychiatric hospital. In order to maintain the raw creativity of madness it was edited very little outside of her hospital stay. Catharsis is a more recent collection of works. Part One is a series of found poems- poems constructed entirely from phrases and words found in her psychiatric notes. Part Two is a play about the Flat Space between hospital stays for revolving door patients. Both are available on Amazon.
Azra has also been the biographical subject of the short story Impulse by Sarah Gonnet. The story can be found in the anthology Short not Sweet from Iron Press and Red Squirrel Press.
Occasionally Azra writes zines and sends them to random people. To join these people (for free) please send a request to: sarahgonnet@hotmail.co.uk